Galactic News Feed – 4/7/15-2
First trailer for Paul Feig's Red Dwarf meets The Office sitcom, Other Space
The series focuses on a team of geeks who are shot out into space, living their weird life on a very weird spaceship.  The cast includes Joel Hodgson and Trace Beaulieu of MST3K, plus a talking robot and coffee maker, along with a lovely AI who only wants a bit more freedom.
Read more and watch the trailer at this link http://www.blastr.com/2015-4-6/first-trailer-paul-feigs-red-dwarf-meets-office-sitcom-other-space
A robot prepared for self-awareness: Expanded software architecture for walking robot Hector
A year ago, researchers showed that their software endowed the walking robot Hector with a simple form of consciousness. Their new research goes one step further: they have now developed a software architecture that could enable Hector to see himself as others see him. "With this, he would have reflexive consciousness," explains an expert. The architecture is based on artificial neural networks.
Read more at this link http://www.sciencedaily.com/releases/2015/03/150331113454.htm
A Map Showing UFO Hot Spots Across The United States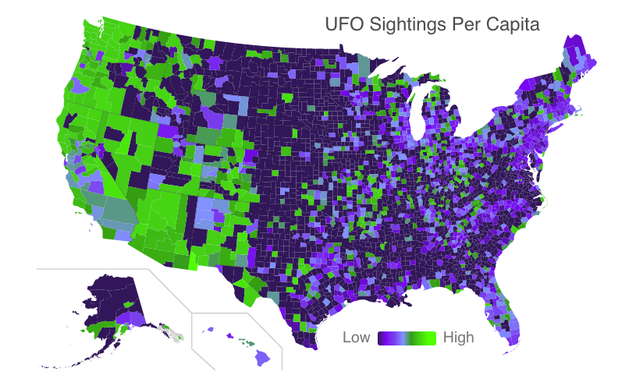 Researchers created the map by pulling information from over 61,000 reports, whittling it down to nearly 39,000. After determining latitude and longitude pairs, the folks at FindTheBest were able to determine the number of UFO sightings reported in each county.
Read more at this link http://io9.com/a-map-showing-ufo-hot-spots-across-the-united-states-1695952067
Syfy Orders Pilot For 'Incorporated', Futuristic Thriller From Matt Damon & Ben Affleck
Set in a dystopian future where companies have unlimited power, Incorporated centers on Ben Larson, an executive who is forced to change his identity in order to infiltrate a cutthroat corporate world and save the woman he loves. In the process, he will take on the entire system – with deadly consequences.
Read more at this link http://deadline.com/2015/04/syfy-teams-with-matt-damon-ben-affleck-for-futuristic-thriller-incorporated-1201405114/