Galactic News Feed – 4/29/15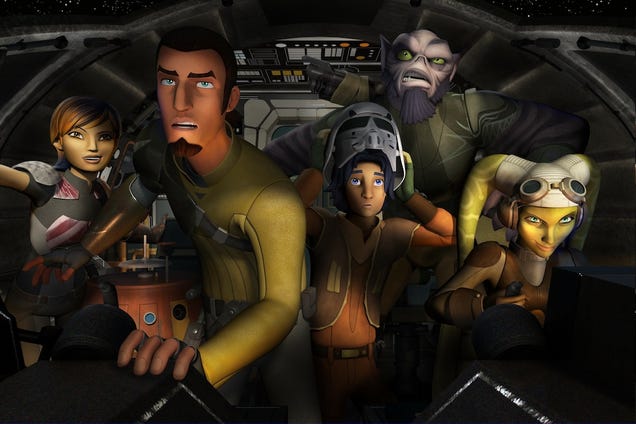 Producers Simon Kinberg and Dave Filoni revealed this interesting possibility at last week's Star Wars Celebration.  
Read more at this link http://io9.com/the-heroes-of-star-wars-rebels-could-make-their-way-to-1700935851
The Air Force Research Lab has confirmed that the ship's fourth flight will test out Hall thrusters that could prove to be a new, fuel-efficient engine for maneuvering spacecrafts in space.   Basically, it's a bigger version of the ion engines commonly used to maneuver satellites and deep-space probes. It basically creates thrust by accelerating ions, as the name implies.
Read more at this link http://www.blastr.com/2015-4-28/us-air-forces-secret-space-plane-about-start-testing-tie-fighter-engine
Originally it was their favorite wedding photo until they spotted something really creepy seemingly lurking behind them.
Read more at this link http://fox59.com/2015/04/24/bride-groom-and-ghost-mystery-figure-appears-in-wedding-photo-2/
Snagging the writing duo is quite a coup for Fox, and should serve as confirmation that the network is pulling out all the stops to ensure this continuation lives up to fans' high expectations.
Read and see more at this link http://tvline.com/2015/04/28/x-files-writers-glen-morgan-james-wong-fox-revival/
Image courtesy blastr.com
Ben Affleck was reportedly spotted on the set of David Ayer's Suicide Squad, sporting his Bruce Wayne look.  Also, Latino Review claims Jared Leto's version of the Joker will cameo in Batman v Superman: Dawn of Justice.  The report says the scene is a flashback that will show the Joker killing Jason Todd, aka a former Robin.
Read more at this link http://www.blastr.com/2015-4-29/ben-afflecks-batman-and-jared-letos-joker-could-be-crossing-over-dc-films