Galactic News Feed – 5/6/15
The novel is set in a world without poverty, war or disease. Humans are given mind-altering drugs and free sex, while consumerism runs rampant. People are no longer able to reproduce, but are instead engineered in hatcheries — and those who won't conform are forced onto reservations. But everything changes when one "savage" challenges the status quo.
Read more at this links http://www.blastr.com/2015-5-5/steven-spielberg-developing-brave-new-world-scripted-series-syfy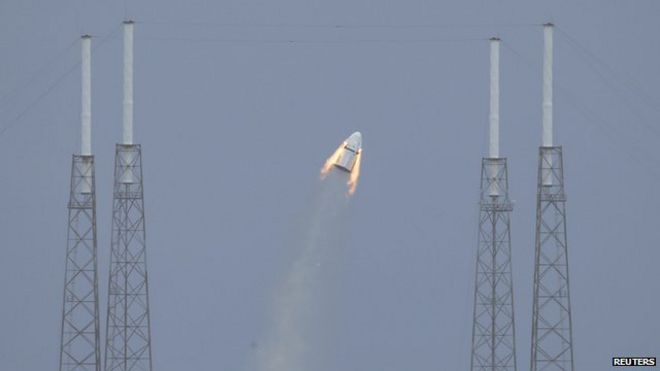 The demonstration simulated what would happen to the crewship in the event of a rocket failure on the launch pad.  Wednesday's test saw a vehicle – carrying no humans, only a dummy – hurled skywards by a set of powerful in-built thrusters. The Dragon ship was propelled to a safe distance, lowering itself softly into the Atlantic via three parachutes.
Read more at this link http://www.bbc.com/news/science-environment-32603303
"It was definitely not human-like, it had hair all over it and it was definitely not a bear. It had the Bigfoot-looking face, We were used to seeing bears and bobcats and mountain lions, and it was none of those," she explained.
Read more at this link http://cryptozoologynews.com/oregon-woman-says-bigfoot-watched-her-taking-a-bath/
Like the game, the series will follow a man who wakes up on a mysterious island with no knowledge of who he is or how he got there. No word on how many episodes they're aiming for, but considering the concept, we'd imagine a miniseries-size order is the most likely option.
Read more at this link http://www.blastr.com/2015-5-6/hulu-picks-high-concept-tv-series-based-1990s-video-game-myst
The universe is thought to be about 13.8 billion years old, so galaxy EGS-zs8-1 is also one of the earliest galaxies to form in the cosmos. Further studies could provide a glimpse at how these early galaxies helped produce the heavy elements that are essential for building the diversity of life and landscapes we see on Earth today.
Read more and watch a behind the scenes video at this http://www.space.com/29319-farthest-galaxy-ever-found.html
The slides – on Kodachrome film – were revealed by a team headed by Dr Edgar Mitchell, an astronaut who walked on the moon. No images have been released in advance of the event – but the slides supposedly show the remains of a dead alien.
Read more at this link http://metro.co.uk/2015/05/06/ufo-conference-shows-off-new-roswell-alien-photos-discovered-in-attic-5183882/