Galactic News Feed – 5/27/15
The Synths are watching us in 3 intense teasers for AMC's new sci-fi series Humans
The two teasers and viral video give us an intriguing first look at this upcoming sci-fi series based on the Swedish show Äkta människor (aka Real Humans).
The story takes place in a parallel world where androids with robotic eyes, called "Synths," help people in their everyday lives, tasks and more.
Watch the rest of the videos at this link http://www.blastr.com/2015-5-26/synths-are-watching-us-3-intense-teasers-amcs-new-sci-fi-series-humans
Could 'Green Rust' Be A Catalyst For Martian Life?
A fully oxidized iron "rust" — one exposed to oxidation for long enough turns orangey-red, similar to the color of Mars' regolith. When oxidization is incomplete, however, the iron rust is greenish.
According to Laurie Barge, a planetary scientist at NASA's Jet Propulsion Laboratory "From an environmental science perspective, green rust can absorb and concentrate nutrients, and can also accept and donate electrons for life."
Read more at this link http://www.space.com/29473-green-rust-catalyst-martian-life.html
Batmobile chases Joker through Toronto in 'Suicide Squad' shoot
The new-look Batmobile hit the streets overnight to film a car chase for the upcoming film "Suicide Squad," in a scene that drew a considerable crowd downtown.
The new Batmobile looks and sounds like an armoured Formula One race car, with back wheels so wide, they span a lane and a half.
Read more and watch some footage at this link http://www.ctvnews.ca/entertainment/batmobile-chases-joker-through-toronto-in-suicide-squad-shoot-1.2391330
Charlie Charlie Challenge explained: it's not a Mexican demon being summoned — it's gravity
It's claimed that the game is an old Mexican tradition, but there's no trace of that on the internet, but it seems to have been around for years before it took off this week.
The pencils have to be so finely balanced on top of each other that even the slightest movement from a breath or slightly tilted surface will push it around.
Read more at this link http://www.independent.co.uk/news/weird-news/charlie-charlie-challenge-explained-its-not-a-mexican-demon-being-summoned–its-gravity-10276557.html
A Company Spent $97 Million to Make Its Headquarters a Star Trek Tribute
This building, with its distinctive saucer shape and oval nacelles, is the headquarters for Chinese game developer NetDragon Websoft.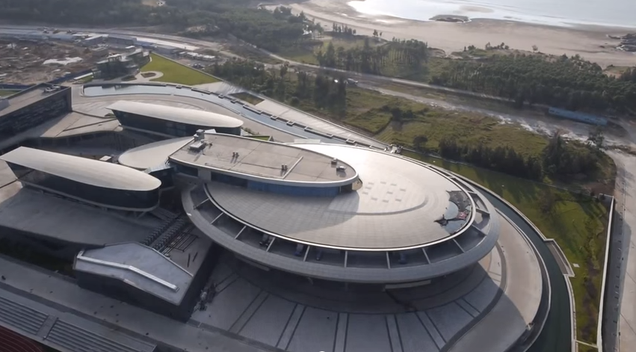 The company did make sure the design was okay with CBS before beginning.  The company said in an e-mail to the Wall Street Journal, that their first request wasn't believed.
Read more at this link http://io9.com/a-company-spent-97-million-to-make-its-headquarters-a-1707092791
Air Force Wants Airplanes with Laser Cannons by 2022
from Popular Science
The AC-130 is currently armed with a range of guns, rockets, cannons, missiles, and bombs but, the latest version of this battlefield transport is scheduled to have a heavy cannon, with the possibility of adding in a laser weapon on the last few made, provided the laser is ready.
The Air Force has been at work on a laser weapon for a long time. A massive project to mount an anti-missile laser on a converted 747 failed, but new projects, based on the same technology as the Navy and Army lasers, have seen significant development.
Read more at this link http://www.popsci.com/air-force-wants-laser-planes-2022