Galactic News Feed – 6/2/15
Michael Dorn gives update on his proposed Capt. Worf series and reveals intriguing plot details
from Blastr
Sitting down with Cinema Source, the Star Trek actor revealed that his proposed Captain Worf series would take place after the events of Star Trek: Deep Space Nine, but before those of Star Trek: Nemesis. So far, so intriguing.
He also suggested that Worf would have no real allegiance to either the Klingon Empire or Starfleet, having moved on into a brand-new phase in his life. Dorn's idea for the show would have a somewhat different Klingon society, too, with humans and Starfleet officers having been integrated into the daily life of the Klingon homeworld, Qo'noS'.
Read more at this link http://www.blastr.com/2015-6-1/michael-dorn-updates-us-his-proposed-capt-worf-series-and-reveals-intriguing-plot-details
NASA Chief Wants to Cut Mars Travel Time in Half
from Space.com
The space administrations head, Charlie Bolden recently spoke at the Aerojet Rocketdyne plant in Canoga Park, California.  With current technology, a mission would take about 8 months, but  Superfast propulsion tech would help limit astronauts' radiation exposure during the trek to Mars and reduce the amount of water, food and other "consumables" such a mission would require.
During a news conference, Bolden, along with Aerojet Rocketdyne's CEO and president Scott Seymour and Julie Van Kleeck discussed the advanced solar-electric propulsion systems (SEP) the company has been working on.  "The advantage of using that kind of propulsion, pound for pound, is that it can fly nearly forever as opposed to chemical engines," Bolden added, in reference to the traditional liquid-fueled rocket engines that propel the vast majority of NASA's spacecraft.
Read more at this link http://www.space.com/29540-manned-mars-mission-propulsion-technologies.html
Take A First Look At Ernest Cline's Armada
from iO9
As it opens, high school student Zack Lightman glances out his classroom window and spots a UFO. Stranger still, the ship he's staring at is straight out of the videogame he plays every night, a hugely popular online flight simulator called Armada—in which gamers just happen to be protecting Earth from alien invaders.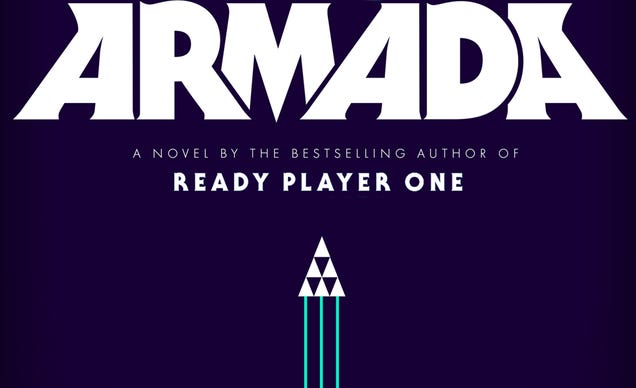 ARMADA, which is already being adapted into a film by Universal Studios, is at once a rollicking, surprising thriller, a classic coming-of-age adventure, and an alien-invasion tale like nothing you've ever read before.
Read chapter one of the new book at this link http://io9.com/take-a-first-look-at-ernest-clines-armada-and-win-a-1708228944
Hooded figure spooks drivers in Australia
from Unexplained-Mysteries.com
The footage recorded by the driver's dashcam shows the mysterious individual walking out on to the road and stopping in the middle of the lane with his head looking down at the ground. The chilling encounter then concludes with the assailant lunging towards the car screaming at the top of his lungs while the driver puts his foot down and speeds off as fast as possible.
http://youtu.be/JTgaT2-I6iU
To make matters worse, the driver's wife, who had been travelling just one minute behind in a separate vehicle, subsequently encountered the same hooded figure on the road who lunged at her car in just the same way.
Read more at this link http://www.unexplained-mysteries.com/news/282108/hooded-figure-spooks-drivers-in-australia
Doctor Who's Steven Moffat on why he's still 'haunted by guilt' over the Time War
from Blastr
Introduced by former showrunner Russell T Davies when Doctor Who returned to our TV screens back in 2005, the Time War took place between the Time Lords and the Daleks. It was fought "for the sake of all creation" and led to the apparent destruction of the Doctor's beloved homeworld of Gallifrey. Only two known Gallifreyan survivors — the Doctor and the Master — and a number of Daleks were left.
Speaking in the newest issue of Doctor Who Magazine (#487), Moffat said: "I know some of you, including friends of mine, were upset that we reversed the outcome of the Time War. My defence, however feeble, is that given the chance, the Doctor would do exactly that.
Read more at this link http://www.blastr.com/2015-6-1/doctor-whos-steven-moffat-why-hes-still-haunted-guilt-over-time-war
This Tiny Self-Folding Robot Will Destroy Itself When Its Job Is Done
from Gizmodo
The robot, made from a magnet and pieces of PVC sandwiched between layers of polystyrene or paper, can go through its entire circle of life without the need for cable tethers or wires of any kind.
When the flat structure is first placed on a heating element, the layers of PVC contract, causing it to fold itself into a pre-defined shape wrapped around a magnet. That cubic neodymium magnet trapped inside the folded robot actually serves as its motor. When exposed to an external oscillating magnetic field, the magnet starts to vibrate inside. And thanks to the off-balance design of the tiny folded robot, it's actually able to walk—or move forward, at least—on its tiny set of legs.
Read more at this link http://gizmodo.com/this-tiny-self-folding-robot-will-destroy-itself-when-i-1707655885