Galactic News Feed – 6/9/15
Head into space with a trio of intergalactic bounty hunters in new Killjoys footage
from Blastr.com
The show, which will air on Syfy in the U.S. and Space in Canada, follows a trio of intergalactic bounty hunters (aka reclamation agents) as they chase down fugitives throughout the Quad — a distant planetary system teetering toward a bloody class war.
This 10 part series comes from the creative mind of showrunner Michelle Lovretta — who gave us  Lost Girl — and stars Hannah John-Kamen (Black Mirror), Aaron Ashmore (Warehouse 13) and Luke MacFarlane (Person of Interest).
Read more at this link http://www.blastr.com/2015-6-8/head-space-trio-intergalactic-bounty-hunters-new-killjoys-footage
Researchers have shown that time can run backwards as well as forwards.
from Mail Online
The research centres around the strange behaviour of particles in quantum mechanics. In the quantum world it is possible for a moving object to exist in two states at once – a particle and a wave – but it is impossible to see it in both states at once.  In a new experiment, however, scientists found an action that occurred after they attempted to observe an atom seemed to determine whether they saw it as a wave or a particle.
Dr Andrew Trustcott, a physicist at the Australian National University who led the work, said: "The atoms did not travel from A to B. It was only when they were measured at the end of the journey that their wave-like or particle-like behaviour was brought into existence,'
Read more at this link http://www.dailymail.co.uk/sciencetech/article-3116792/Does-future-affect-PAST-Physicists-demonstrate-time-run-backwards.html#ixzz3cZpFOb5G
Copy of the Original Star Wars Script Unearthed
from iO9.com
Librarian for the University of New Brunswick Kristian Brown had been sifting through it's science fiction collection for a digitization project when he came across the script, dated March 15, 1976. A script which Lucsasfilm confirms looks like a real version of an early script.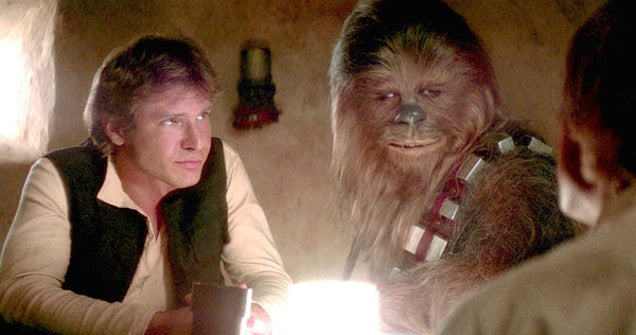 A few of the changes from this script to the film we ended up getting are well known, for example: Luke Starkiller rather than Skywalker, the film called "Saga I" rather than "Episode IV." But the big change is whether Han shot first. Says Brown: "I'll tell you one thing, right now. Based on the script, I can tell you 100 per cent, Han shot first."
Read more at this link http://io9.com/a-copy-of-the-original-star-wars-script-unearthed-in-a-1710008624
Ghost Girl Caught On Tape In Abandoned Train
from Before It's News
A 17-year-old girl was found dead in abandoned railway station in West Sussex.The girl was lying on the ground with a camera in her hand. When the police examined the tape this is what they found.
There's no sound on this video and the ghost can be seen towards the end but, it's well worth the wait.
Read more at this link http://beforeitsnews.com/paranormal/2015/06/scariest-video-ever-ghost-girl-caught-on-tape-in-abandoned-train-video-2490870.html
First Synopsis For Independence Day 2 Has Been Released
from ComicBook.com
Using recovered alien technology, the nations of Earth have collaborated on an immense defense program to protect the planet. But nothing can prepare us for the aliens' advanced and unprecedented force. Only the ingenuity of a few brave men and women can bring our world back from the brink of extinction.
It was first spotted on Rotten Tomatoes last month, but people weren't sure if it was official or not. Now that it has appeared in a licensing expo magazine we can now says that it is.
Read more at this link http://comicbook.com/2015/06/06/synopsis-for-independence-day-2-has-been-released/
Meet Adeline, Airbus' Answer To SpaceX Reusability
from SpaceNews.com
On June 5th the company unveiled the product of what it said was a five-year effort to design a reusable first-stage engine and avionics package, a project company official said was stimulated by SpaceX's work on reusable rockets.
Airbus officials said they believe they have resolved some of the issues inherent in Hawthorne, California-based SpaceX's reusability effort, notably the exposure of the first stage engine to high-speed stresses as it descends through the atmosphere to its landing zone.
Read more at this link http://spacenews.com/meet-adeline-airbus-response-to-reusable-spacex-rocket/