Weird World Write-Up – 7/8/15
What's roaming the British countryside?  A Wales family is tormented by something paranormal.  And, some items from history with a death curse.
Mystery 'beast' spotted roaming Plymouth suburbs
The idea that there could be a population of large cats roaming the British countryside is certainly nothing new. The phenomenon, which has spawned numerous legends over the years, has been investigated several times but to date no conclusive explanation has ever been found.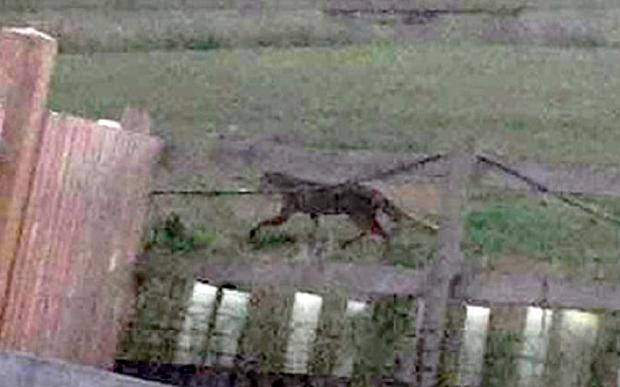 Some of the sightings are believed to have been the result of big cat owners releasing their animals in to the wild after the introduction of the Dangerous Wild Animals Act in 1976, but with reports of large cats continuing well in to the 21st century it seems unlikely that this could explain all of them.  This latest sighting, which was reported by 59-year-old office worker Carole Desforges, appears to be of another exotic species of cat such as a puma, lynx or leopard.
Read more at http://www.unexplained-mysteries.com/news/283250/mysterious-beast-prowls-plymouth-suburbs
Husband calls in ghostbuster because he is convinced an evil demon is molesting his wife every night
From Dailymail.co.uk
Keiron Fry, 32, from New Tredegar, south Wales, said his marriage to Tracey, 46, has been left on the rocks because the ghost keeps attacking her as she sleeps – leaving her covered with bruises in the morning.  The couple said the demons have also menacing their three children, threatening to 'slit their parents' throats' after their stepson used a ouija board on Hallowe'en.
'My wife goes to bed fine, doesn't feel anything in the night but when she wakes up she's in agony. I wake up the next day and said: 'I didn't do that. I would never beat my wife.' The unemployed father took a picture of the ghost in his sons' bedroom which he says shows a small child in a white gown with a blue face and a tail.
Read more at http://www.dailymail.co.uk/news/article-3147073/Husband-calls-ghostbuster-catch-demon-molesting-wife.html#ixzz3fJqCVTIj
Allegedly Cursed Objects Throughout History
From Mental Floss
The Busby Stoop Chair
English drunkard Thomas Busby sealed his fate when he murdered his father-in-law Daniel Auty in 1702. For his crimes, he was executed by hanging at a crossroads near a humble inn. But a chair that looked on to the site of his execution is believed to carry a curse—whoever sits upon it will supposedly die from a frightful accident.
Iceman
Discovered in 1991 in the Ötztal Alps in Italy, Ötzi is a mummy of a man who is believed to have lived around 3,300 BCE. A glacier surrounded him after he died of exposure, and preserved his body. But once unearthed, rumors of a curse surfaced, and grew stronger as people linked to him began to die, often in violent accidents. All told, seven deaths have been tied to Ötzi's uprooting.
Read more at http://mentalfloss.com/article/59504/10-allegedly-cursed-objects-throughout-history