The Alien Invasion Report – 7/22/15
In the latest news from the world of extraterrestrials; a different creature from the final frontier, a NASA conspiracy to hide truth of mothership near the sun and, TV network picks up alien thriller.
Our First Look At A Brand New Alien From Star Trek Beyond
From iO9
A couple of weeks ago the cast of the new Star Trek movie gave us our first look at the Enterprise set with a video to promote their Omaze charity contest.  Well, they've got a new one; starring Simon Pegg, Anton Yelchin and a new alien from the film.  You can watch the video below above, or scroll further down for a picture of the creature itself.
We don't know if this is a significant species or just some kind of background character.  Find out when Star Trek: Beyond hits theaters July 8th, 2016.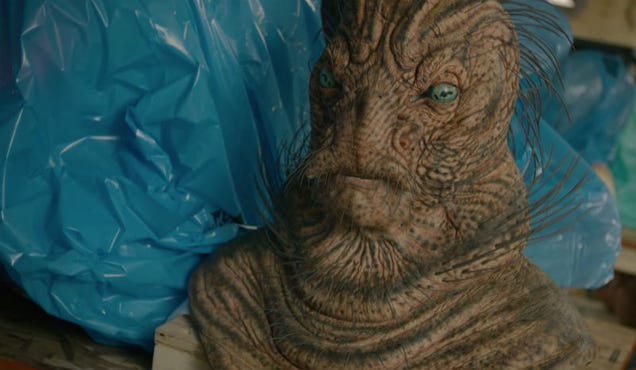 More at http://io9.com/our-first-look-at-a-brand-new-alien-from-star-trek-beyo-1719371453
Massive mothership 'the size of Idaho' caught in NASA images, say ufologists
From RT
The claim was made In a Youtube video showing the original NASA image of the sun captured by the Solar and Heliospheric Observatory (SOHO) on July 15th, 2015 by user Streetcap1. "This UFO is awesome! Every time I try to ask NASA about these UFOs on Twitter, they ignore me. They have never answered me and refuse to talk about these giant UFOs near our sun," said a statement from the UFO Sightings Daily.
UFO Sightings Daily cited an eyewitness who said the object, which is definitely not a space rock or a piece of space junk,"has structure and for NASA to dismiss it as nothing is an insult to people's intelligence."
More at https://www.rt.com/news/310459-nasa-ufo-sun-aliens/
Good Wife Creators' D.C.-Based Alien Invasion Comic-Thriller BrainDead Ordered to Series at CBS
From TVLine
The network has ordered a 13-episode run of Robert and Michelle King's one-hour thriller, which is being billed as a cross between The Strain and The West Wing.  BrainDead, which is slated to premiere in Summer 2016, follows a young Capital Hill staffer getting her first job in Washington, D.C. and discovering two things: The government has stopped working, and alien spawn have come to Earth and eaten the brains of a growing number of Congressmen and Hill staffers.
"We wanted to do a show that was a mix of genre-pulp and high-brow politics," said the Kings in a statement. "It seemed like the best way to address the news today — not straight, but as the opening act of a horror movie."
More at http://tvline.com/2015/07/22/braindead-cbs-series-good-wife-creators-aliens-dc/