Photo of cloaked figure sparks Facebook frenzy
The picture was taken through a window with blinds in the foreground and a cloaked, pale person outside near some woods in Gastonia, North Carolina.  Social media chatter says the man or woman is in the Hudson Woods apartment complex, but police say it hasn't been confirmed.
Many people accused the cloaked person of dropping raw meat near a playground in the apartment complex.
One resident said her husband found a bag of raw meat near their apartment about two weeks ago.  Online commenters made the leap that the cloaked person left the meat. Police have made no such connection.
Source: Gaston Gazette
September asteroid impact lie results in NASA statement
Rumour-mongers have been saying recently that the cosmic strike would hit near Puerto Rico, destroying parts of the US Atlantic and Gulf coasts and Mexico, as well as Central and South America. Conspiracy theorists suggested the US authorities were secretly making emergency plans for the impending catastrophe.
But, according to NASA, their Near-Earth Object Observations Program has detected no asteroids or comets that would impact Earth anytime in the foreseeable future. All known Potentially Hazardous Asteroids have less than a 0.01% chance of impacting Earth in the next 100 years.
Source: Doubtful News
Hiker snaps 'ghost' in Australian outback
Brokc David had been out walking in the Australian wilderness recently when he was overcome by a sudden sense of dread and an overwhelming feeling that he was being watched. When he later went through the photographs he'd taken he noticed one that seemed to show a bearded man dressed in red peering out at him from behind a pile of roots and branches.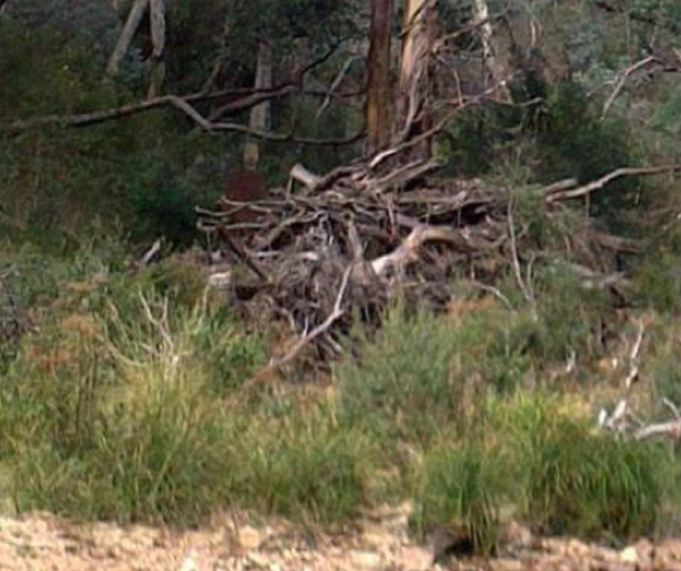 "I felt like the hairs on the back of my neck were standing up, I honestly don't believe in ghosts or anything supernatural," he said. "Oddly enough I've been experiencing a similar feeling of dread every once in a while over the last week."
Source: Unexplained-Mysteries